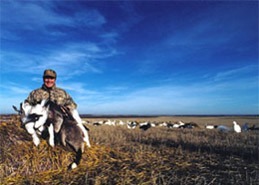 Sean Mann has been guiding waterfowl hunts for over forty years. He began his career in Maryland guiding Canada Goose hunts on Chesapeake Bay. His ability with calls and decoys quickly made him one of the most requested guide in the region.
Sean began calling in the World Goose Calling Championship in 1981. He finished Fourth in the World that year, and Third in the World the following two years. In 1985, Sean won the World Goose Calling Championship with the call that he designed, refined, and patented, "The Eastern Shoreman". He repeated his victory in 1986. At the time, he was the youngest World Champion, ever. In all, Sean finished in the top Five in the World twelve times. This accomplishment alone has never been equaled.
In 1995, Sean Mann became the first-ever World Goose Calling Champion of Champions. He out-called seven other World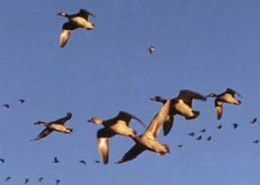 Goose Calling Champions in head-to-head competition to capture Goose Calling's highest honor. By rule, his victory retired him from the World Goose Calling Competition. He is the three-time Mason-Dixon Duck Calling Champion, and retired from that Competition as well.
It's no secret that Sean's calls started the "Long Call Revolution." Since 1985, Sean's goose calls have won 13 World Championship Titles, 6 World Game Calling Championship Calling Titles, 2 International Invitational Goose Calling Titles, The World Goose Calling Champion of Champions Title (the first call to do so), and The International Invitational Champion of Champions title (the first call to do so). They are used by winners of dozens of World and International titles. No other calls even come close!
Sean guides, makes custom goose and duck calls, & gives waterfowling seminars across the continent.
There is no hunting on Sundays in Maryland.
Half day hunts, usually morning, but dictated by weather & birds. Farms are from Talbot County up to Cecil County.
You will need your hunters safety certification, a Maryland License (resident or 3-day non-res.), Federal Migratory Stamp and Maryland Migratory Stamp.
To find out more about waterfowl hunts with Sean Mann
call 1-800-345-4539 or email Sean Mann: sean@seanmanncalls.com