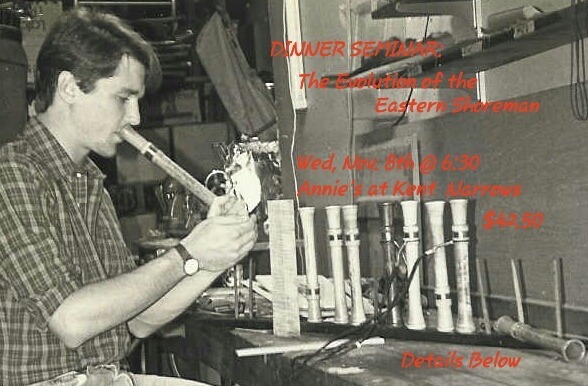 Dinner Seminar:
The Evolution of the Eastern Shoreman
Take a stroll down memory lane….
You may have read an article or seen some photos. You may even know someone who has an old Shoreman from the 1980s, but this is your chance to see history with your own eyes!
Sean will bring some of his first calls made. You will see how the Eastern Shoreman evolved from its prototype to the current calls. Learn about adaptations that were made and why. His collection rarely sees the light of day and is shared even more infrequently.
As if the evening couldn't get any better, the seminar is at Annie's at Kent Narrows. The evening includes your choice of a:
10oz Grilled Top Sirloin Steak,
Served with a Salad, Baked Idaho Potato, Fresh Vegetable of the Day and Dessert.
All non alcoholic beverages are included; cash bar.
Wednesday, November 8, 2017
Annie's Paramount Steak & Seafood House
ALL RESERVATIONS ARE MADE THROUGH ANNIE'S.
+++++++++++++++++++++++++++++++++++++++++++++++++++++++++++++++++++
NEED YOUR CALLS TUNED FOR THE SEASON?
$15 covers re-tune, new guts/reed (if necessary) & shipping back to you.
PLEASE pack your calls well, in a box with some kind of packing/filler, so your call doesn't get banged around. This is very important in cold weather.
Please enclose a note with your Name, Shipping Address, Phone #, Email & any tuning requests.
Payment can be made by sending cash, check (payable to Sean Mann Outdoors). If you wish to pay with Visa/MC, we can send you a PayPal Invoice or take your info over the phone. Please do not send your cc info in the box. Please mention in your note  that you wish to pay with Visa/MC and we will call you.
Ship your call to:
Sean Mann Outdoors
5589 Marlan Drive, Trappe, MD 21673
Visit Sean Mann on Youtube
Visit us on Youtube for all our  videos that include:
– Call and Product Demonstrations
– Hunt with Us Adventure Episodes
– Excerpts from our Instructional DVDs
…and more!