Description
Precision turned, then hand-finished and tuned, every one of our wooden calls are as unique as the tree that grew its material.
The XP-1 was, originally launched to celebrate the 20th Anniversary of the Express Eastern Shoreman in 2013. These beautiful calls have the same body style as the Express version with rich tone a wood call provides. Made from one solid piece of wood and no band to interrupt the bounty of gorgeous grains and figure, each call is literally one of a kind!
All of the wood for these calls is hand-selected for its beautiful grain.
Allow 2-4 weeks for delivery of "in-stock" calls, please.  I am making them every day.
A common question asked is how the wood type changes the call's sound. Here is a concise description from Sean:
Maple – $349.99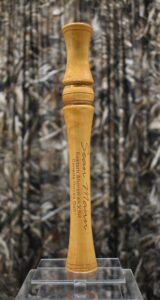 Very natural sounding. Good balance from low to high end tone and balanced volume.
Tigerwood / Goncalo Alves – $369.99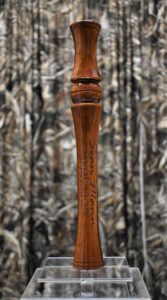 Harder than Maple, so louder, but similar tone.
Cocobolo – $499.99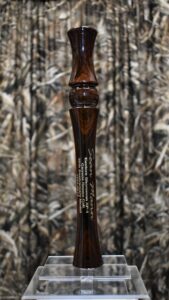 Is a true Rosewood, consequently, it is more dense than maple. It has oil in it like all Rosewoods. So, it is louder, deeper and brighter at the same time (because it's density throws all of those tones "out" of the call).  Cocobolo can no longer be imported into the United States.  Therefore it is now VERY EXPENSIVE.  I am working on the last Cocobolo I think I will ever have.  It is now priced accordingly.
Bocote – "Blonde Cocobolo", see description above
---
In 1985, Sean Mann and his "Eastern Shoreman World Champion Goose Call" set standards for Realism, Reliability and Results in the field that have not been met by any other calls.
"The Eastern Shoreman World Champion Goose Call" is NOT A "FLUTE-TYPE" Call. These calls offer a spectrum of tone, volume and realism that is not attainable from any other call. Every call is hand tuned by World Goose Calling Champion of Champions Sean Mann. The most realistic goose call made, and the easiest to use!
Unlike "Flute Calls" the patented design of the Eastern Shoreman creates the full range of the Canada goose's voice. From full "throaty" lows to bright "snappy" highs, these calls will do it all.
For Instructional Videos For Our Calls Visit Our YouTube Channel:



https://www.youtube.com/channel/UC37YlKhICiOy8hScgJkpTFQ
For An Audio Demonstration, Click The Bar Below: